Strict Standards
: Non-static method JLoader::import() should not be called statically in
/home/formguid/public_html/libraries/loader.php
on line
186
Strict Standards
: Non-static method JLoader::register() should not be called statically in
/home/formguid/public_html/libraries/loader.php
on line
71
Strict Standards
: Non-static method JLoader::load() should not be called statically in
/home/formguid/public_html/libraries/loader.php
on line
161
Strict Standards
: Non-static method JLoader::register() should not be called statically in
/home/formguid/public_html/libraries/loader.php
on line
138
Strict Standards
: Declaration of ContentController::display() should be compatible with JController::display($cachable = false) in
/home/formguid/public_html/components/com_content/controller.php
on line
28
Strict Standards
: Non-static method JLoader::import() should not be called statically in
/home/formguid/public_html/libraries/loader.php
on line
186
Strict Standards
: Non-static method JLoader::import() should not be called statically in
/home/formguid/public_html/libraries/loader.php
on line
186
Strict Standards
: Non-static method JLoader::import() should not be called statically in
/home/formguid/public_html/libraries/loader.php
on line
186
Strict Standards
: Non-static method JLoader::load() should not be called statically in
/home/formguid/public_html/libraries/loader.php
on line
161
Strict Standards
: Non-static method JLoader::register() should not be called statically in
/home/formguid/public_html/libraries/loader.php
on line
138
Strict Standards
: Non-static method JLoader::load() should not be called statically in
/home/formguid/public_html/libraries/loader.php
on line
161
Strict Standards
: Non-static method JLoader::register() should not be called statically in
/home/formguid/public_html/libraries/loader.php
on line
138
Strict Standards
: Non-static method JLoader::import() should not be called statically in
/home/formguid/public_html/libraries/loader.php
on line
186
Strict Standards
: call_user_func_array() expects parameter 1 to be a valid callback, non-static method JHTMLBehavior::caption() should not be called statically in
/home/formguid/public_html/libraries/joomla/html/html.php
on line
91
Strict Standards
: Non-static method JHTML::script() should not be called statically in
/home/formguid/public_html/libraries/joomla/html/html/behavior.php
on line
63
Strict Standards
: Non-static method JHTML::_() should not be called statically in
/home/formguid/public_html/libraries/joomla/html/html.php
on line
172
Strict Standards
: call_user_func_array() expects parameter 1 to be a valid callback, non-static method JHTMLBehavior::mootools() should not be called statically in
/home/formguid/public_html/libraries/joomla/html/html.php
on line
91
Strict Standards
: Non-static method JFactory::getConfig() should not be called statically in
/home/formguid/public_html/libraries/joomla/html/html/behavior.php
on line
46
Strict Standards
: Non-static method JHTML::script() should not be called statically in
/home/formguid/public_html/libraries/joomla/html/html/behavior.php
on line
56
Strict Standards
: Non-static method JURI::root() should not be called statically in
/home/formguid/public_html/libraries/joomla/html/html.php
on line
176
Strict Standards
: Non-static method JURI::base() should not be called statically in
/home/formguid/public_html/libraries/joomla/environment/uri.php
on line
276
Strict Standards
: Non-static method JURI::getInstance() should not be called statically in
/home/formguid/public_html/libraries/joomla/environment/uri.php
on line
276
Strict Standards
: Non-static method JFactory::getDocument() should not be called statically in
/home/formguid/public_html/libraries/joomla/html/html.php
on line
179
Strict Standards
: Non-static method JURI::root() should not be called statically in
/home/formguid/public_html/libraries/joomla/html/html.php
on line
176
Strict Standards
: Non-static method JFactory::getDocument() should not be called statically in
/home/formguid/public_html/libraries/joomla/html/html.php
on line
179
Strict Standards
: Non-static method JLoader::import() should not be called statically in
/home/formguid/public_html/libraries/loader.php
on line
186
Strict Standards
: Non-static method JLoader::load() should not be called statically in
/home/formguid/public_html/libraries/loader.php
on line
161
Strict Standards
: Non-static method JLoader::register() should not be called statically in
/home/formguid/public_html/libraries/loader.php
on line
138
Strict Standards
: Non-static method JLoader::import() should not be called statically in
/home/formguid/public_html/libraries/loader.php
on line
186
Strict Standards
: Non-static method JLoader::import() should not be called statically in
/home/formguid/public_html/libraries/loader.php
on line
186
Strict Standards
: Non-static method JLoader::register() should not be called statically in
/home/formguid/public_html/libraries/loader.php
on line
71
Strict Standards
: Non-static method JLoader::load() should not be called statically in
/home/formguid/public_html/libraries/loader.php
on line
161
Strict Standards
: Non-static method JLoader::register() should not be called statically in
/home/formguid/public_html/libraries/loader.php
on line
138
Strict Standards
: Non-static method JLoader::load() should not be called statically in
/home/formguid/public_html/libraries/loader.php
on line
161
Strict Standards
: Non-static method JLoader::register() should not be called statically in
/home/formguid/public_html/libraries/loader.php
on line
138
Strict Standards
: Non-static method JLoader::import() should not be called statically in
/home/formguid/public_html/libraries/loader.php
on line
186
Strict Standards
: Non-static method JLoader::import() should not be called statically in
/home/formguid/public_html/libraries/loader.php
on line
186
Strict Standards
: Non-static method JLoader::import() should not be called statically in
/home/formguid/public_html/libraries/loader.php
on line
186
Strict Standards
: Non-static method JLoader::import() should not be called statically in
/home/formguid/public_html/libraries/loader.php
on line
186
Strict Standards
: Non-static method JLoader::import() should not be called statically in
/home/formguid/public_html/libraries/loader.php
on line
186
Strict Standards
: Non-static method JLoader::load() should not be called statically in
/home/formguid/public_html/libraries/loader.php
on line
161
Strict Standards
: Non-static method JLoader::register() should not be called statically in
/home/formguid/public_html/libraries/loader.php
on line
138
Strict Standards
: Declaration of JCacheView::get() should be compatible with JCache::get($id, $group = NULL) in
/home/formguid/public_html/libraries/joomla/cache/handler/view.php
on line
150
Strict Standards
: Non-static method JLoader::import() should not be called statically in
/home/formguid/public_html/libraries/loader.php
on line
186
Strict Standards
: Non-static method JLoader::import() should not be called statically in
/home/formguid/public_html/libraries/loader.php
on line
186
Strict Standards
: Non-static method JLoader::import() should not be called statically in
/home/formguid/public_html/libraries/loader.php
on line
186
Strict Standards
: Non-static method JLoader::register() should not be called statically in
/home/formguid/public_html/libraries/loader.php
on line
71
Strict Standards
: Non-static method JLoader::load() should not be called statically in
/home/formguid/public_html/libraries/loader.php
on line
161
Strict Standards
: Non-static method JLoader::register() should not be called statically in
/home/formguid/public_html/libraries/loader.php
on line
138
Strict Standards
: Non-static method JLoader::import() should not be called statically in
/home/formguid/public_html/libraries/loader.php
on line
186
Strict Standards
: Non-static method JLoader::import() should not be called statically in
/home/formguid/public_html/libraries/loader.php
on line
186
Strict Standards
: Non-static method JLoader::import() should not be called statically in
/home/formguid/public_html/libraries/loader.php
on line
186
Strict Standards
: Non-static method JLoader::import() should not be called statically in
/home/formguid/public_html/libraries/loader.php
on line
186
Strict Standards
: Non-static method JLoader::import() should not be called statically in
/home/formguid/public_html/libraries/loader.php
on line
186
Strict Standards
: Non-static method JLoader::register() should not be called statically in
/home/formguid/public_html/libraries/loader.php
on line
71
Strict Standards
: Non-static method JLoader::load() should not be called statically in
/home/formguid/public_html/libraries/loader.php
on line
161
Strict Standards
: Non-static method JLoader::register() should not be called statically in
/home/formguid/public_html/libraries/loader.php
on line
138
Strict Standards
: Non-static method JLoader::import() should not be called statically in
/home/formguid/public_html/libraries/loader.php
on line
186
Strict Standards
: Non-static method JLoader::import() should not be called statically in
/home/formguid/public_html/libraries/loader.php
on line
186
Strict Standards
: Non-static method JLoader::import() should not be called statically in
/home/formguid/public_html/libraries/loader.php
on line
186
Strict Standards
: Non-static method JLoader::load() should not be called statically in
/home/formguid/public_html/libraries/loader.php
on line
161
Strict Standards
: Non-static method JLoader::register() should not be called statically in
/home/formguid/public_html/libraries/loader.php
on line
138
Strict Standards
: Non-static method JLoader::import() should not be called statically in
/home/formguid/public_html/libraries/loader.php
on line
186
Strict Standards
: Non-static method JLoader::import() should not be called statically in
/home/formguid/public_html/libraries/loader.php
on line
186
Strict Standards
: Non-static method JLoader::import() should not be called statically in
/home/formguid/public_html/libraries/loader.php
on line
186
Strict Standards
: Non-static method shRouter::shGetConfig() should not be called statically in
/home/formguid/public_html/administrator/components/com_sh404sef/sh404sef.class.php
on line
1241
Strict Standards
: Non-static method JString::substr() should not be called statically in
/home/formguid/public_html/administrator/components/com_sh404sef/sh404sef.class.php
on line
1321
Strict Standards
: Non-static method shRouter::shGetConfig() should not be called statically in
/home/formguid/public_html/administrator/components/com_sh404sef/sh404sef.class.php
on line
1325
Strict Standards
: Non-static method shRouter::shPageInfo() should not be called statically in
/home/formguid/public_html/administrator/components/com_sh404sef/sh404sef.class.php
on line
1326
Strict Standards
: Non-static method JRequest::getInt() should not be called statically in
/home/formguid/public_html/administrator/components/com_sh404sef/sh404sef.class.php
on line
1328
Strict Standards
: Non-static method JRequest::getVar() should not be called statically in
/home/formguid/public_html/libraries/joomla/environment/request.php
on line
179
Strict Standards
: Non-static method JRequest::_cleanVar() should not be called statically in
/home/formguid/public_html/libraries/joomla/environment/request.php
on line
134
Strict Standards
: Non-static method JFilterInput::getInstance() should not be called statically in
/home/formguid/public_html/libraries/joomla/environment/request.php
on line
577
Strict Standards
: Non-static method JFactory::getApplication() should not be called statically in
/home/formguid/public_html/administrator/components/com_sh404sef/sh404sef.class.php
on line
1283
Strict Standards
: Non-static method JLoader::import() should not be called statically in
/home/formguid/public_html/libraries/loader.php
on line
186
Strict Standards
: Non-static method JFactory::getDBO() should not be called statically in
/home/formguid/public_html/administrator/components/com_sh404sef/sh404sef.class.php
on line
1335
Strict Standards
: Non-static method shRouter::shGetConfig() should not be called statically in
/home/formguid/public_html/administrator/components/com_sh404sef/sh404sef.class.php
on line
1241
Strict Standards
: Non-static method JString::substr() should not be called statically in
/home/formguid/public_html/administrator/components/com_sh404sef/sh404sef.class.php
on line
1358
Strict Standards
: Non-static method JString::ltrim() should not be called statically in
/home/formguid/public_html/administrator/components/com_sh404sef/sh404sef.class.php
on line
1392
Strict Standards
: Non-static method JLoader::import() should not be called statically in
/home/formguid/public_html/libraries/loader.php
on line
186
Strict Standards
: Non-static method JString::substr() should not be called statically in
/home/formguid/public_html/administrator/components/com_sh404sef/sh404sef.class.php
on line
1397
Strict Standards
: Non-static method JString::substr() should not be called statically in
/home/formguid/public_html/administrator/components/com_sh404sef/sh404sef.class.php
on line
1442
Strict Standards
: Non-static method JString::substr() should not be called statically in
/home/formguid/public_html/administrator/components/com_sh404sef/sh404sef.class.php
on line
1453
Strict Standards
: Non-static method shRouter::shGetConfig() should not be called statically in
/home/formguid/public_html/administrator/components/com_sh404sef/sh404seffactory.php
on line
69
Strict Standards
: Non-static method JLoader::register() should not be called statically in
/home/formguid/public_html/administrator/components/com_sh404sef/helpers/autoloader.php
on line
95
Strict Standards
: Non-static method JLoader::load() should not be called statically in
/home/formguid/public_html/administrator/components/com_sh404sef/helpers/autoloader.php
on line
106
Strict Standards
: Non-static method JLoader::register() should not be called statically in
/home/formguid/public_html/libraries/loader.php
on line
138
Strict Standards
: Non-static method JLoader::load() should not be called statically in
/home/formguid/public_html/libraries/loader.php
on line
161
Strict Standards
: Non-static method JLoader::register() should not be called statically in
/home/formguid/public_html/libraries/loader.php
on line
138
Strict Standards
: Non-static method shRouter::shGetConfig() should not be called statically in
/home/formguid/public_html/administrator/components/com_sh404sef/sh404sef.class.php
on line
1241
Strict Standards
: Non-static method JString::rtrim() should not be called statically in
/home/formguid/public_html/administrator/components/com_sh404sef/sh404sef.class.php
on line
2146
Strict Standards
: Non-static method JLoader::import() should not be called statically in
/home/formguid/public_html/libraries/loader.php
on line
186
Strict Standards
: Non-static method shRouter::shGetConfig() should not be called statically in
/home/formguid/public_html/administrator/components/com_sh404sef/sh404sef.class.php
on line
903
Strict Standards
: Non-static method JFactory::getDBO() should not be called statically in
/home/formguid/public_html/administrator/components/com_sh404sef/sh404sef.class.php
on line
889
Strict Standards
: Non-static method JString::ltrim() should not be called statically in
/home/formguid/public_html/administrator/components/com_sh404sef/sh404sef.class.php
on line
1782
Strict Standards
: Non-static method JLoader::import() should not be called statically in
/home/formguid/public_html/libraries/loader.php
on line
186
Strict Standards
: Non-static method shRouter::shGetConfig() should not be called statically in
/home/formguid/public_html/administrator/components/com_sh404sef/sh404sef.class.php
on line
1241
Strict Standards
: Non-static method shRouter::shGetConfig() should not be called statically in
/home/formguid/public_html/administrator/components/com_sh404sef/sh404sef.class.php
on line
336
Strict Standards
: Non-static method shRouter::shGetConfig() should not be called statically in
/home/formguid/public_html/administrator/components/com_sh404sef/sh404sef.class.php
on line
1241
Strict Standards
: Non-static method shRouter::shGetConfig() should not be called statically in
/home/formguid/public_html/administrator/components/com_sh404sef/sh404sef.class.php
on line
1241
Strict Standards
: Non-static method shRouter::shGetConfig() should not be called statically in
/home/formguid/public_html/administrator/components/com_sh404sef/sh404sef.class.php
on line
1241
Strict Standards
: Non-static method JLoader::import() should not be called statically in
/home/formguid/public_html/libraries/loader.php
on line
186
Strict Standards
: Non-static method JLoader::import() should not be called statically in
/home/formguid/public_html/libraries/loader.php
on line
186
Strict Standards
: Non-static method JLoader::import() should not be called statically in
/home/formguid/public_html/libraries/loader.php
on line
186
Strict Standards
: Non-static method JLoader::import() should not be called statically in
/home/formguid/public_html/libraries/loader.php
on line
186
Strict Standards
: Non-static method JLoader::import() should not be called statically in
/home/formguid/public_html/libraries/loader.php
on line
186
Strict Standards
: Non-static method JLoader::import() should not be called statically in
/home/formguid/public_html/libraries/loader.php
on line
186
Strict Standards
: Non-static method JLoader::import() should not be called statically in
/home/formguid/public_html/libraries/loader.php
on line
186
Strict Standards
: Non-static method JLoader::import() should not be called statically in
/home/formguid/public_html/libraries/loader.php
on line
186
Strict Standards
: Non-static method JLoader::import() should not be called statically in
/home/formguid/public_html/libraries/loader.php
on line
186
Strict Standards
: Non-static method JLoader::import() should not be called statically in
/home/formguid/public_html/libraries/loader.php
on line
186
Strict Standards
: Non-static method JLoader::import() should not be called statically in
/home/formguid/public_html/libraries/loader.php
on line
186
Strict Standards
: Non-static method JLoader::import() should not be called statically in
/home/formguid/public_html/libraries/loader.php
on line
186
Strict Standards
: Non-static method JLoader::import() should not be called statically in
/home/formguid/public_html/libraries/loader.php
on line
186
Strict Standards
: Non-static method JLoader::import() should not be called statically in
/home/formguid/public_html/libraries/loader.php
on line
186
Strict Standards
: Non-static method JLoader::import() should not be called statically in
/home/formguid/public_html/libraries/loader.php
on line
186
Strict Standards
: Non-static method JLoader::import() should not be called statically in
/home/formguid/public_html/libraries/loader.php
on line
186
Strict Standards
: Non-static method JLoader::import() should not be called statically in
/home/formguid/public_html/libraries/loader.php
on line
186
Strict Standards
: Non-static method JLoader::import() should not be called statically in
/home/formguid/public_html/libraries/loader.php
on line
186
Strict Standards
: Non-static method JLoader::load() should not be called statically in
/home/formguid/public_html/libraries/loader.php
on line
161
Strict Standards
: Non-static method JLoader::register() should not be called statically in
/home/formguid/public_html/libraries/loader.php
on line
138
Strict Standards
: Non-static method JLoader::import() should not be called statically in
/home/formguid/public_html/libraries/loader.php
on line
186
Strict Standards
: Non-static method JLoader::load() should not be called statically in
/home/formguid/public_html/libraries/loader.php
on line
161
Strict Standards
: Non-static method JLoader::register() should not be called statically in
/home/formguid/public_html/libraries/loader.php
on line
138
Strict Standards
: Non-static method JLoader::import() should not be called statically in
/home/formguid/public_html/libraries/loader.php
on line
186
Strict Standards
: Non-static method JLoader::load() should not be called statically in
/home/formguid/public_html/libraries/loader.php
on line
161
Strict Standards
: Non-static method JLoader::register() should not be called statically in
/home/formguid/public_html/libraries/loader.php
on line
138
Strict Standards
: Non-static method JLoader::import() should not be called statically in
/home/formguid/public_html/libraries/loader.php
on line
186
Strict Standards
: Non-static method JLoader::load() should not be called statically in
/home/formguid/public_html/libraries/loader.php
on line
161
Strict Standards
: Non-static method JLoader::register() should not be called statically in
/home/formguid/public_html/libraries/loader.php
on line
138
Strict Standards
: Non-static method JLoader::import() should not be called statically in
/home/formguid/public_html/libraries/loader.php
on line
186
Strict Standards
: Non-static method JLoader::import() should not be called statically in
/home/formguid/public_html/libraries/loader.php
on line
186
Strict Standards
: Non-static method JFactory::getApplication() should not be called statically in
/home/formguid/public_html/plugins/sh404sefcore/sh404sefsimilarurls.php
on line
25
Strict Standards
: Non-static method shRouter::shPageInfo() should not be called statically in
/home/formguid/public_html/plugins/sh404sefcore/sh404sefsimilarurls.php
on line
35
Strict Standards
: Non-static method JString::strpos() should not be called statically in
/home/formguid/public_html/plugins/sh404sefcore/sh404sefsimilarurls.php
on line
44
It's A Dundeel Wins WFA Underwood Stakes
The best racehorse to leave New Zealand in a decade is set to take control of the Australian spring racing carnival.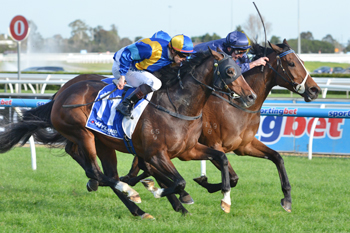 It's A Dundeel, a horse who played second fiddle to only Black Caviar in the autumn, can now be regarded as second-to-none after winning the Group One Underwood Stakes (1800m) at Caulfield on Saturday.
In a race viewed as the showpiece of the season so far, the Australian Derby winner took it up to the unbeaten mare Atlantic Jewel and in a punishing finish, he proved superior.
Jockey James McDonald made his intentions known from the jump on It's A Dundeel ($7.50), taking the spot outside Atlantic Jewel who led from the jump.
And for almost every step of the final 1600m the two stars had it between them.
"I knew when he eyeballed me early on that he wouldn't go away, he's a very good colt," said Atlantic Jewel's jockey Michael Rodd.
At the 200m Atlantic Jewel looked like stretching her unbeaten streak to 10, but in the final 40m McDonald forced another effort from It's A Dundeel ($7.50) who scored by a short head.
Dear Demi ($71), who made a dash at the leaders 150m out, held third, a further three-quarters of a length away.
It's A Dundeel is now a $3 favourite for Australia's most prestigious race, the Cox Plate, with Atlantic Jewel now the second pick at $3.50.
Winning trainer Murray Baker, who had previously won the Underwood with The Phantom and Lion Tamer, gave equal credit for the win to horse and rider.
"He's a very talented colt, a very good horse," Baker said.
"He came here underdone for his first-up run and today he was a lot fitter.
"And James figured it out pretty quick, he didn't want to be giving her a big start after she went to the front."
McDonald offered a slightly different view, saying he feared the wrath of the trainer as he raced alongside Atlantic Jewel.
"My heart was in my mouth at the 800m. Murray had told me to go back ... the instructions went out the window."
Atlantic Jewel's trainer Mark Kavanagh took the defeat to heart, but didn't complain.
"You can't sook about being beaten in a Group One race," he said.
"She'll be better off in the Cox Plate - she should be able to stalk them."
A corporate bookmaker reported one of its clients placed a $500,000 bet on Atlantic Jewel.
The moderate pace set by the two leaders gave them a big advantage over the stayers back in the field.
Long-time Melbourne Cup favourite Puissance De Lune was near last for the first half of the race and finished seventh, but he ran the fastest final 200m of the race with reigning Cup champion Green Moon coming from last with the second fastest.
Puissance De Lune firmed from $7.50 to $6.50 in the Cox Plate and retains Melbourne Cup favouritism.
Photos: Fiona Tomlin & Quentin J Lang

Users of the old Virtual FormGuide site for zip file form and ratings should login here. NOW INCLUDES ACCESS TO NZ, HK AND AUSTRALIAN NON-TAB FORM
Every Race, Every Day Read More
Only $63 A Month
Every Race, Every Day Read More
Only $63 A Month
Every Race, Every Day Read More
TVF Form In Zip Format
Historical Data From '98
Build Your Own Form Database
Only $35 A Month!
NOW INCLUDES NZ, HK AND AUSTRALIAN NON-TAB FORM