Strict Standards
: Non-static method JLoader::import() should not be called statically in
/home/formguid/public_html/libraries/loader.php
on line
186
Strict Standards
: Non-static method JLoader::register() should not be called statically in
/home/formguid/public_html/libraries/loader.php
on line
71
Strict Standards
: Non-static method JLoader::load() should not be called statically in
/home/formguid/public_html/libraries/loader.php
on line
161
Strict Standards
: Non-static method JLoader::register() should not be called statically in
/home/formguid/public_html/libraries/loader.php
on line
138
Strict Standards
: Declaration of ContentController::display() should be compatible with JController::display($cachable = false) in
/home/formguid/public_html/components/com_content/controller.php
on line
28
Strict Standards
: Non-static method JLoader::import() should not be called statically in
/home/formguid/public_html/libraries/loader.php
on line
186
Strict Standards
: Non-static method JLoader::import() should not be called statically in
/home/formguid/public_html/libraries/loader.php
on line
186
Strict Standards
: Non-static method JLoader::import() should not be called statically in
/home/formguid/public_html/libraries/loader.php
on line
186
Strict Standards
: Non-static method JLoader::load() should not be called statically in
/home/formguid/public_html/libraries/loader.php
on line
161
Strict Standards
: Non-static method JLoader::register() should not be called statically in
/home/formguid/public_html/libraries/loader.php
on line
138
Strict Standards
: Non-static method JLoader::load() should not be called statically in
/home/formguid/public_html/libraries/loader.php
on line
161
Strict Standards
: Non-static method JLoader::register() should not be called statically in
/home/formguid/public_html/libraries/loader.php
on line
138
Strict Standards
: Non-static method JLoader::import() should not be called statically in
/home/formguid/public_html/libraries/loader.php
on line
186
Strict Standards
: call_user_func_array() expects parameter 1 to be a valid callback, non-static method JHTMLBehavior::caption() should not be called statically in
/home/formguid/public_html/libraries/joomla/html/html.php
on line
91
Strict Standards
: Non-static method JHTML::script() should not be called statically in
/home/formguid/public_html/libraries/joomla/html/html/behavior.php
on line
63
Strict Standards
: Non-static method JHTML::_() should not be called statically in
/home/formguid/public_html/libraries/joomla/html/html.php
on line
172
Strict Standards
: call_user_func_array() expects parameter 1 to be a valid callback, non-static method JHTMLBehavior::mootools() should not be called statically in
/home/formguid/public_html/libraries/joomla/html/html.php
on line
91
Strict Standards
: Non-static method JFactory::getConfig() should not be called statically in
/home/formguid/public_html/libraries/joomla/html/html/behavior.php
on line
46
Strict Standards
: Non-static method JHTML::script() should not be called statically in
/home/formguid/public_html/libraries/joomla/html/html/behavior.php
on line
56
Strict Standards
: Non-static method JURI::root() should not be called statically in
/home/formguid/public_html/libraries/joomla/html/html.php
on line
176
Strict Standards
: Non-static method JURI::base() should not be called statically in
/home/formguid/public_html/libraries/joomla/environment/uri.php
on line
276
Strict Standards
: Non-static method JURI::getInstance() should not be called statically in
/home/formguid/public_html/libraries/joomla/environment/uri.php
on line
276
Strict Standards
: Non-static method JFactory::getDocument() should not be called statically in
/home/formguid/public_html/libraries/joomla/html/html.php
on line
179
Strict Standards
: Non-static method JURI::root() should not be called statically in
/home/formguid/public_html/libraries/joomla/html/html.php
on line
176
Strict Standards
: Non-static method JFactory::getDocument() should not be called statically in
/home/formguid/public_html/libraries/joomla/html/html.php
on line
179
Strict Standards
: Non-static method JLoader::import() should not be called statically in
/home/formguid/public_html/libraries/loader.php
on line
186
Strict Standards
: Non-static method JLoader::load() should not be called statically in
/home/formguid/public_html/libraries/loader.php
on line
161
Strict Standards
: Non-static method JLoader::register() should not be called statically in
/home/formguid/public_html/libraries/loader.php
on line
138
Strict Standards
: Non-static method JLoader::import() should not be called statically in
/home/formguid/public_html/libraries/loader.php
on line
186
Strict Standards
: Non-static method JLoader::import() should not be called statically in
/home/formguid/public_html/libraries/loader.php
on line
186
Strict Standards
: Non-static method JLoader::register() should not be called statically in
/home/formguid/public_html/libraries/loader.php
on line
71
Strict Standards
: Non-static method JLoader::load() should not be called statically in
/home/formguid/public_html/libraries/loader.php
on line
161
Strict Standards
: Non-static method JLoader::register() should not be called statically in
/home/formguid/public_html/libraries/loader.php
on line
138
Strict Standards
: Non-static method JLoader::load() should not be called statically in
/home/formguid/public_html/libraries/loader.php
on line
161
Strict Standards
: Non-static method JLoader::register() should not be called statically in
/home/formguid/public_html/libraries/loader.php
on line
138
Strict Standards
: Non-static method JLoader::import() should not be called statically in
/home/formguid/public_html/libraries/loader.php
on line
186
Strict Standards
: Non-static method JLoader::import() should not be called statically in
/home/formguid/public_html/libraries/loader.php
on line
186
Strict Standards
: Non-static method JLoader::import() should not be called statically in
/home/formguid/public_html/libraries/loader.php
on line
186
Strict Standards
: Non-static method JLoader::import() should not be called statically in
/home/formguid/public_html/libraries/loader.php
on line
186
Strict Standards
: Non-static method JLoader::import() should not be called statically in
/home/formguid/public_html/libraries/loader.php
on line
186
Strict Standards
: Non-static method JLoader::load() should not be called statically in
/home/formguid/public_html/libraries/loader.php
on line
161
Strict Standards
: Non-static method JLoader::register() should not be called statically in
/home/formguid/public_html/libraries/loader.php
on line
138
Strict Standards
: Declaration of JCacheView::get() should be compatible with JCache::get($id, $group = NULL) in
/home/formguid/public_html/libraries/joomla/cache/handler/view.php
on line
150
Strict Standards
: Non-static method JLoader::import() should not be called statically in
/home/formguid/public_html/libraries/loader.php
on line
186
Strict Standards
: Non-static method JLoader::import() should not be called statically in
/home/formguid/public_html/libraries/loader.php
on line
186
Strict Standards
: Non-static method JLoader::import() should not be called statically in
/home/formguid/public_html/libraries/loader.php
on line
186
Strict Standards
: Non-static method JLoader::register() should not be called statically in
/home/formguid/public_html/libraries/loader.php
on line
71
Strict Standards
: Non-static method JLoader::load() should not be called statically in
/home/formguid/public_html/libraries/loader.php
on line
161
Strict Standards
: Non-static method JLoader::register() should not be called statically in
/home/formguid/public_html/libraries/loader.php
on line
138
Strict Standards
: Non-static method JLoader::import() should not be called statically in
/home/formguid/public_html/libraries/loader.php
on line
186
Strict Standards
: Non-static method JLoader::import() should not be called statically in
/home/formguid/public_html/libraries/loader.php
on line
186
Strict Standards
: Non-static method JLoader::import() should not be called statically in
/home/formguid/public_html/libraries/loader.php
on line
186
Strict Standards
: Non-static method JLoader::import() should not be called statically in
/home/formguid/public_html/libraries/loader.php
on line
186
Strict Standards
: Non-static method JLoader::import() should not be called statically in
/home/formguid/public_html/libraries/loader.php
on line
186
Strict Standards
: Non-static method JLoader::register() should not be called statically in
/home/formguid/public_html/libraries/loader.php
on line
71
Strict Standards
: Non-static method JLoader::load() should not be called statically in
/home/formguid/public_html/libraries/loader.php
on line
161
Strict Standards
: Non-static method JLoader::register() should not be called statically in
/home/formguid/public_html/libraries/loader.php
on line
138
Strict Standards
: Non-static method JLoader::import() should not be called statically in
/home/formguid/public_html/libraries/loader.php
on line
186
Strict Standards
: Non-static method JLoader::import() should not be called statically in
/home/formguid/public_html/libraries/loader.php
on line
186
Strict Standards
: Non-static method JLoader::import() should not be called statically in
/home/formguid/public_html/libraries/loader.php
on line
186
Strict Standards
: Non-static method JLoader::load() should not be called statically in
/home/formguid/public_html/libraries/loader.php
on line
161
Strict Standards
: Non-static method JLoader::register() should not be called statically in
/home/formguid/public_html/libraries/loader.php
on line
138
Strict Standards
: Non-static method JLoader::import() should not be called statically in
/home/formguid/public_html/libraries/loader.php
on line
186
Strict Standards
: Non-static method JLoader::import() should not be called statically in
/home/formguid/public_html/libraries/loader.php
on line
186
Strict Standards
: Non-static method JLoader::import() should not be called statically in
/home/formguid/public_html/libraries/loader.php
on line
186
Strict Standards
: Non-static method shRouter::shGetConfig() should not be called statically in
/home/formguid/public_html/administrator/components/com_sh404sef/sh404sef.class.php
on line
1241
Strict Standards
: Non-static method JString::substr() should not be called statically in
/home/formguid/public_html/administrator/components/com_sh404sef/sh404sef.class.php
on line
1321
Strict Standards
: Non-static method shRouter::shGetConfig() should not be called statically in
/home/formguid/public_html/administrator/components/com_sh404sef/sh404sef.class.php
on line
1325
Strict Standards
: Non-static method shRouter::shPageInfo() should not be called statically in
/home/formguid/public_html/administrator/components/com_sh404sef/sh404sef.class.php
on line
1326
Strict Standards
: Non-static method JRequest::getInt() should not be called statically in
/home/formguid/public_html/administrator/components/com_sh404sef/sh404sef.class.php
on line
1328
Strict Standards
: Non-static method JRequest::getVar() should not be called statically in
/home/formguid/public_html/libraries/joomla/environment/request.php
on line
179
Strict Standards
: Non-static method JRequest::_cleanVar() should not be called statically in
/home/formguid/public_html/libraries/joomla/environment/request.php
on line
134
Strict Standards
: Non-static method JFilterInput::getInstance() should not be called statically in
/home/formguid/public_html/libraries/joomla/environment/request.php
on line
577
Strict Standards
: Non-static method JFactory::getApplication() should not be called statically in
/home/formguid/public_html/administrator/components/com_sh404sef/sh404sef.class.php
on line
1283
Strict Standards
: Non-static method JLoader::import() should not be called statically in
/home/formguid/public_html/libraries/loader.php
on line
186
Strict Standards
: Non-static method JFactory::getDBO() should not be called statically in
/home/formguid/public_html/administrator/components/com_sh404sef/sh404sef.class.php
on line
1335
Strict Standards
: Non-static method shRouter::shGetConfig() should not be called statically in
/home/formguid/public_html/administrator/components/com_sh404sef/sh404sef.class.php
on line
1241
Strict Standards
: Non-static method JString::substr() should not be called statically in
/home/formguid/public_html/administrator/components/com_sh404sef/sh404sef.class.php
on line
1358
Strict Standards
: Non-static method JString::ltrim() should not be called statically in
/home/formguid/public_html/administrator/components/com_sh404sef/sh404sef.class.php
on line
1392
Strict Standards
: Non-static method JLoader::import() should not be called statically in
/home/formguid/public_html/libraries/loader.php
on line
186
Strict Standards
: Non-static method JString::substr() should not be called statically in
/home/formguid/public_html/administrator/components/com_sh404sef/sh404sef.class.php
on line
1397
Strict Standards
: Non-static method JString::substr() should not be called statically in
/home/formguid/public_html/administrator/components/com_sh404sef/sh404sef.class.php
on line
1442
Strict Standards
: Non-static method JString::substr() should not be called statically in
/home/formguid/public_html/administrator/components/com_sh404sef/sh404sef.class.php
on line
1453
Strict Standards
: Non-static method shRouter::shGetConfig() should not be called statically in
/home/formguid/public_html/administrator/components/com_sh404sef/sh404seffactory.php
on line
69
Strict Standards
: Non-static method JLoader::register() should not be called statically in
/home/formguid/public_html/administrator/components/com_sh404sef/helpers/autoloader.php
on line
95
Strict Standards
: Non-static method JLoader::load() should not be called statically in
/home/formguid/public_html/administrator/components/com_sh404sef/helpers/autoloader.php
on line
106
Strict Standards
: Non-static method JLoader::register() should not be called statically in
/home/formguid/public_html/libraries/loader.php
on line
138
Strict Standards
: Non-static method JLoader::load() should not be called statically in
/home/formguid/public_html/libraries/loader.php
on line
161
Strict Standards
: Non-static method JLoader::register() should not be called statically in
/home/formguid/public_html/libraries/loader.php
on line
138
Strict Standards
: Non-static method shRouter::shGetConfig() should not be called statically in
/home/formguid/public_html/administrator/components/com_sh404sef/sh404sef.class.php
on line
1241
Strict Standards
: Non-static method JString::rtrim() should not be called statically in
/home/formguid/public_html/administrator/components/com_sh404sef/sh404sef.class.php
on line
2146
Strict Standards
: Non-static method JLoader::import() should not be called statically in
/home/formguid/public_html/libraries/loader.php
on line
186
Strict Standards
: Non-static method shRouter::shGetConfig() should not be called statically in
/home/formguid/public_html/administrator/components/com_sh404sef/sh404sef.class.php
on line
903
Strict Standards
: Non-static method JFactory::getDBO() should not be called statically in
/home/formguid/public_html/administrator/components/com_sh404sef/sh404sef.class.php
on line
889
Strict Standards
: Non-static method JString::ltrim() should not be called statically in
/home/formguid/public_html/administrator/components/com_sh404sef/sh404sef.class.php
on line
1782
Strict Standards
: Non-static method JLoader::import() should not be called statically in
/home/formguid/public_html/libraries/loader.php
on line
186
Strict Standards
: Non-static method shRouter::shGetConfig() should not be called statically in
/home/formguid/public_html/administrator/components/com_sh404sef/sh404sef.class.php
on line
1241
Strict Standards
: Non-static method shRouter::shGetConfig() should not be called statically in
/home/formguid/public_html/administrator/components/com_sh404sef/sh404sef.class.php
on line
336
Strict Standards
: Non-static method shRouter::shGetConfig() should not be called statically in
/home/formguid/public_html/administrator/components/com_sh404sef/sh404sef.class.php
on line
1241
Strict Standards
: Non-static method shRouter::shGetConfig() should not be called statically in
/home/formguid/public_html/administrator/components/com_sh404sef/sh404sef.class.php
on line
1241
Strict Standards
: Non-static method shRouter::shGetConfig() should not be called statically in
/home/formguid/public_html/administrator/components/com_sh404sef/sh404sef.class.php
on line
1241
Strict Standards
: Non-static method JLoader::import() should not be called statically in
/home/formguid/public_html/libraries/loader.php
on line
186
Strict Standards
: Non-static method JLoader::import() should not be called statically in
/home/formguid/public_html/libraries/loader.php
on line
186
Strict Standards
: Non-static method JLoader::import() should not be called statically in
/home/formguid/public_html/libraries/loader.php
on line
186
Strict Standards
: Non-static method JLoader::import() should not be called statically in
/home/formguid/public_html/libraries/loader.php
on line
186
Strict Standards
: Non-static method JLoader::import() should not be called statically in
/home/formguid/public_html/libraries/loader.php
on line
186
Strict Standards
: Non-static method JLoader::import() should not be called statically in
/home/formguid/public_html/libraries/loader.php
on line
186
Strict Standards
: Non-static method JLoader::import() should not be called statically in
/home/formguid/public_html/libraries/loader.php
on line
186
Strict Standards
: Non-static method JLoader::import() should not be called statically in
/home/formguid/public_html/libraries/loader.php
on line
186
Strict Standards
: Non-static method JLoader::import() should not be called statically in
/home/formguid/public_html/libraries/loader.php
on line
186
Strict Standards
: Non-static method JLoader::import() should not be called statically in
/home/formguid/public_html/libraries/loader.php
on line
186
Strict Standards
: Non-static method JLoader::import() should not be called statically in
/home/formguid/public_html/libraries/loader.php
on line
186
Strict Standards
: Non-static method JLoader::import() should not be called statically in
/home/formguid/public_html/libraries/loader.php
on line
186
Strict Standards
: Non-static method JLoader::import() should not be called statically in
/home/formguid/public_html/libraries/loader.php
on line
186
Strict Standards
: Non-static method JLoader::import() should not be called statically in
/home/formguid/public_html/libraries/loader.php
on line
186
Strict Standards
: Non-static method JLoader::import() should not be called statically in
/home/formguid/public_html/libraries/loader.php
on line
186
Strict Standards
: Non-static method JLoader::import() should not be called statically in
/home/formguid/public_html/libraries/loader.php
on line
186
Strict Standards
: Non-static method JLoader::import() should not be called statically in
/home/formguid/public_html/libraries/loader.php
on line
186
Strict Standards
: Non-static method JLoader::import() should not be called statically in
/home/formguid/public_html/libraries/loader.php
on line
186
Strict Standards
: Non-static method JLoader::load() should not be called statically in
/home/formguid/public_html/libraries/loader.php
on line
161
Strict Standards
: Non-static method JLoader::register() should not be called statically in
/home/formguid/public_html/libraries/loader.php
on line
138
Strict Standards
: Non-static method JLoader::import() should not be called statically in
/home/formguid/public_html/libraries/loader.php
on line
186
Strict Standards
: Non-static method JLoader::load() should not be called statically in
/home/formguid/public_html/libraries/loader.php
on line
161
Strict Standards
: Non-static method JLoader::register() should not be called statically in
/home/formguid/public_html/libraries/loader.php
on line
138
Strict Standards
: Non-static method JLoader::import() should not be called statically in
/home/formguid/public_html/libraries/loader.php
on line
186
Strict Standards
: Non-static method JLoader::load() should not be called statically in
/home/formguid/public_html/libraries/loader.php
on line
161
Strict Standards
: Non-static method JLoader::register() should not be called statically in
/home/formguid/public_html/libraries/loader.php
on line
138
Strict Standards
: Non-static method JLoader::import() should not be called statically in
/home/formguid/public_html/libraries/loader.php
on line
186
Strict Standards
: Non-static method JLoader::load() should not be called statically in
/home/formguid/public_html/libraries/loader.php
on line
161
Strict Standards
: Non-static method JLoader::register() should not be called statically in
/home/formguid/public_html/libraries/loader.php
on line
138
Strict Standards
: Non-static method JLoader::import() should not be called statically in
/home/formguid/public_html/libraries/loader.php
on line
186
Strict Standards
: Non-static method JLoader::import() should not be called statically in
/home/formguid/public_html/libraries/loader.php
on line
186
Strict Standards
: Non-static method JFactory::getApplication() should not be called statically in
/home/formguid/public_html/plugins/sh404sefcore/sh404sefsimilarurls.php
on line
25
Strict Standards
: Non-static method shRouter::shPageInfo() should not be called statically in
/home/formguid/public_html/plugins/sh404sefcore/sh404sefsimilarurls.php
on line
35
Strict Standards
: Non-static method JString::strpos() should not be called statically in
/home/formguid/public_html/plugins/sh404sefcore/sh404sefsimilarurls.php
on line
44
Mixed Day At Caulfield For Jake Noonan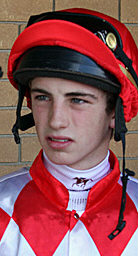 Jake NoonanApprentice Jake Noonan had mixed fortunes at Caulfield with the elation of a winning double tempered with a 11-meeting suspension.
Noonan, 18, scored an emotional win on Our Spirit's Bay for his father Tony in the Catanach's Jewellers Handicap (1200m) but his wayward ride on Alpha Proxima caused him to be charged with careless riding.
Noonan dedicated the win on Alpha Proxima to jockey Harry Hillier who died in October.
"He was a close friend," Noonan said.
Noonan pleaded guilty to shifting out inside the last 100 metres on the Alpha Proxima inconveniencing two other runners and he will be out after Tuesday's races and can return at Moonee Valley's night meeting on December 16.
His suspension follows two suspensions in one week in Sydney last month.
Last season's champion Victorian apprentice, Noonan said it had taken him time to adjust to race riding after being sidelined for six months after a fall in May.
"It's been a tough six months," he said.
"The race sense is getting there I just need to polish a couple of aspects.
"It could take another month. I won't be Damien Oliver overnight.
"I am just a bit rusty that's all."
Our Spirit's Bay was Noonan's first win on one of his father's team since his return to riding.
He said it was a big occasion for both father and son.
"Dad doesn't have the great team but we do the do the best with what we have," Noonan said.
"We work together pretty hard and especially with a mare like that (Our Spirit's Bay)."
Our Spirit's Bay is a former stakes placegetter in New Zealand and has had four starts for the Noonan stable.
Noonan's Caulfield double follows another winning double at Moonee Valley on Friday night.
Fellow apprentice Katelyn Mallyon pleaded guilty to careless riding on Florets in the WAFEX Sovereign Plate (1400m).
She is also suspended for 11 meetings from Tuesday night and can resume riding at the Valley on December 16.
AAP
Users of the old Virtual FormGuide site for zip file form and ratings should login here. NOW INCLUDES ACCESS TO NZ, HK AND AUSTRALIAN NON-TAB FORM
Every Race, Every Day Read More
Only $63 A Month
Every Race, Every Day Read More
Only $63 A Month
Every Race, Every Day Read More
TVF Form In Zip Format
Historical Data From '98
Build Your Own Form Database
Only $35 A Month!
NOW INCLUDES NZ, HK AND AUSTRALIAN NON-TAB FORM