Strict Standards
: Non-static method JLoader::import() should not be called statically in
/home/formguid/public_html/libraries/loader.php
on line
186
Strict Standards
: Non-static method JLoader::register() should not be called statically in
/home/formguid/public_html/libraries/loader.php
on line
71
Strict Standards
: Non-static method JLoader::load() should not be called statically in
/home/formguid/public_html/libraries/loader.php
on line
161
Strict Standards
: Non-static method JLoader::register() should not be called statically in
/home/formguid/public_html/libraries/loader.php
on line
138
Strict Standards
: Declaration of ContentController::display() should be compatible with JController::display($cachable = false) in
/home/formguid/public_html/components/com_content/controller.php
on line
28
Strict Standards
: Non-static method JLoader::import() should not be called statically in
/home/formguid/public_html/libraries/loader.php
on line
186
Strict Standards
: Non-static method JLoader::import() should not be called statically in
/home/formguid/public_html/libraries/loader.php
on line
186
Strict Standards
: Non-static method JLoader::import() should not be called statically in
/home/formguid/public_html/libraries/loader.php
on line
186
Strict Standards
: Non-static method JLoader::load() should not be called statically in
/home/formguid/public_html/libraries/loader.php
on line
161
Strict Standards
: Non-static method JLoader::register() should not be called statically in
/home/formguid/public_html/libraries/loader.php
on line
138
Strict Standards
: Non-static method JLoader::load() should not be called statically in
/home/formguid/public_html/libraries/loader.php
on line
161
Strict Standards
: Non-static method JLoader::register() should not be called statically in
/home/formguid/public_html/libraries/loader.php
on line
138
Strict Standards
: Non-static method JLoader::import() should not be called statically in
/home/formguid/public_html/libraries/loader.php
on line
186
Strict Standards
: call_user_func_array() expects parameter 1 to be a valid callback, non-static method JHTMLBehavior::caption() should not be called statically in
/home/formguid/public_html/libraries/joomla/html/html.php
on line
91
Strict Standards
: Non-static method JHTML::script() should not be called statically in
/home/formguid/public_html/libraries/joomla/html/html/behavior.php
on line
63
Strict Standards
: Non-static method JHTML::_() should not be called statically in
/home/formguid/public_html/libraries/joomla/html/html.php
on line
172
Strict Standards
: call_user_func_array() expects parameter 1 to be a valid callback, non-static method JHTMLBehavior::mootools() should not be called statically in
/home/formguid/public_html/libraries/joomla/html/html.php
on line
91
Strict Standards
: Non-static method JFactory::getConfig() should not be called statically in
/home/formguid/public_html/libraries/joomla/html/html/behavior.php
on line
46
Strict Standards
: Non-static method JHTML::script() should not be called statically in
/home/formguid/public_html/libraries/joomla/html/html/behavior.php
on line
56
Strict Standards
: Non-static method JURI::root() should not be called statically in
/home/formguid/public_html/libraries/joomla/html/html.php
on line
176
Strict Standards
: Non-static method JURI::base() should not be called statically in
/home/formguid/public_html/libraries/joomla/environment/uri.php
on line
276
Strict Standards
: Non-static method JURI::getInstance() should not be called statically in
/home/formguid/public_html/libraries/joomla/environment/uri.php
on line
276
Strict Standards
: Non-static method JFactory::getDocument() should not be called statically in
/home/formguid/public_html/libraries/joomla/html/html.php
on line
179
Strict Standards
: Non-static method JURI::root() should not be called statically in
/home/formguid/public_html/libraries/joomla/html/html.php
on line
176
Strict Standards
: Non-static method JFactory::getDocument() should not be called statically in
/home/formguid/public_html/libraries/joomla/html/html.php
on line
179
Strict Standards
: Non-static method JLoader::import() should not be called statically in
/home/formguid/public_html/libraries/loader.php
on line
186
Strict Standards
: Non-static method JLoader::load() should not be called statically in
/home/formguid/public_html/libraries/loader.php
on line
161
Strict Standards
: Non-static method JLoader::register() should not be called statically in
/home/formguid/public_html/libraries/loader.php
on line
138
Strict Standards
: Non-static method JLoader::import() should not be called statically in
/home/formguid/public_html/libraries/loader.php
on line
186
Strict Standards
: Non-static method JLoader::import() should not be called statically in
/home/formguid/public_html/libraries/loader.php
on line
186
Strict Standards
: Non-static method JLoader::register() should not be called statically in
/home/formguid/public_html/libraries/loader.php
on line
71
Strict Standards
: Non-static method JLoader::load() should not be called statically in
/home/formguid/public_html/libraries/loader.php
on line
161
Strict Standards
: Non-static method JLoader::register() should not be called statically in
/home/formguid/public_html/libraries/loader.php
on line
138
Strict Standards
: Non-static method JLoader::load() should not be called statically in
/home/formguid/public_html/libraries/loader.php
on line
161
Strict Standards
: Non-static method JLoader::register() should not be called statically in
/home/formguid/public_html/libraries/loader.php
on line
138
Strict Standards
: Non-static method JLoader::import() should not be called statically in
/home/formguid/public_html/libraries/loader.php
on line
186
Strict Standards
: Non-static method JLoader::import() should not be called statically in
/home/formguid/public_html/libraries/loader.php
on line
186
Strict Standards
: Non-static method JLoader::import() should not be called statically in
/home/formguid/public_html/libraries/loader.php
on line
186
Strict Standards
: Non-static method JLoader::import() should not be called statically in
/home/formguid/public_html/libraries/loader.php
on line
186
Strict Standards
: Non-static method JLoader::import() should not be called statically in
/home/formguid/public_html/libraries/loader.php
on line
186
Strict Standards
: Non-static method JLoader::load() should not be called statically in
/home/formguid/public_html/libraries/loader.php
on line
161
Strict Standards
: Non-static method JLoader::register() should not be called statically in
/home/formguid/public_html/libraries/loader.php
on line
138
Strict Standards
: Declaration of JCacheView::get() should be compatible with JCache::get($id, $group = NULL) in
/home/formguid/public_html/libraries/joomla/cache/handler/view.php
on line
150
Strict Standards
: Non-static method JLoader::import() should not be called statically in
/home/formguid/public_html/libraries/loader.php
on line
186
Strict Standards
: Non-static method JLoader::import() should not be called statically in
/home/formguid/public_html/libraries/loader.php
on line
186
Strict Standards
: Non-static method JLoader::import() should not be called statically in
/home/formguid/public_html/libraries/loader.php
on line
186
Strict Standards
: Non-static method JLoader::register() should not be called statically in
/home/formguid/public_html/libraries/loader.php
on line
71
Strict Standards
: Non-static method JLoader::load() should not be called statically in
/home/formguid/public_html/libraries/loader.php
on line
161
Strict Standards
: Non-static method JLoader::register() should not be called statically in
/home/formguid/public_html/libraries/loader.php
on line
138
Strict Standards
: Non-static method JLoader::import() should not be called statically in
/home/formguid/public_html/libraries/loader.php
on line
186
Strict Standards
: Non-static method JLoader::import() should not be called statically in
/home/formguid/public_html/libraries/loader.php
on line
186
Strict Standards
: Non-static method JLoader::import() should not be called statically in
/home/formguid/public_html/libraries/loader.php
on line
186
Strict Standards
: Non-static method JLoader::import() should not be called statically in
/home/formguid/public_html/libraries/loader.php
on line
186
Strict Standards
: Non-static method JLoader::import() should not be called statically in
/home/formguid/public_html/libraries/loader.php
on line
186
Strict Standards
: Non-static method JLoader::register() should not be called statically in
/home/formguid/public_html/libraries/loader.php
on line
71
Strict Standards
: Non-static method JLoader::load() should not be called statically in
/home/formguid/public_html/libraries/loader.php
on line
161
Strict Standards
: Non-static method JLoader::register() should not be called statically in
/home/formguid/public_html/libraries/loader.php
on line
138
Strict Standards
: Non-static method JLoader::import() should not be called statically in
/home/formguid/public_html/libraries/loader.php
on line
186
Strict Standards
: Non-static method JLoader::import() should not be called statically in
/home/formguid/public_html/libraries/loader.php
on line
186
Strict Standards
: Non-static method JLoader::import() should not be called statically in
/home/formguid/public_html/libraries/loader.php
on line
186
Strict Standards
: Non-static method JLoader::load() should not be called statically in
/home/formguid/public_html/libraries/loader.php
on line
161
Strict Standards
: Non-static method JLoader::register() should not be called statically in
/home/formguid/public_html/libraries/loader.php
on line
138
Strict Standards
: Non-static method JLoader::import() should not be called statically in
/home/formguid/public_html/libraries/loader.php
on line
186
Strict Standards
: Non-static method JLoader::import() should not be called statically in
/home/formguid/public_html/libraries/loader.php
on line
186
Strict Standards
: Non-static method JLoader::import() should not be called statically in
/home/formguid/public_html/libraries/loader.php
on line
186
Strict Standards
: Non-static method shRouter::shGetConfig() should not be called statically in
/home/formguid/public_html/administrator/components/com_sh404sef/sh404sef.class.php
on line
1241
Strict Standards
: Non-static method JString::substr() should not be called statically in
/home/formguid/public_html/administrator/components/com_sh404sef/sh404sef.class.php
on line
1321
Strict Standards
: Non-static method shRouter::shGetConfig() should not be called statically in
/home/formguid/public_html/administrator/components/com_sh404sef/sh404sef.class.php
on line
1325
Strict Standards
: Non-static method shRouter::shPageInfo() should not be called statically in
/home/formguid/public_html/administrator/components/com_sh404sef/sh404sef.class.php
on line
1326
Strict Standards
: Non-static method JRequest::getInt() should not be called statically in
/home/formguid/public_html/administrator/components/com_sh404sef/sh404sef.class.php
on line
1328
Strict Standards
: Non-static method JRequest::getVar() should not be called statically in
/home/formguid/public_html/libraries/joomla/environment/request.php
on line
179
Strict Standards
: Non-static method JRequest::_cleanVar() should not be called statically in
/home/formguid/public_html/libraries/joomla/environment/request.php
on line
134
Strict Standards
: Non-static method JFilterInput::getInstance() should not be called statically in
/home/formguid/public_html/libraries/joomla/environment/request.php
on line
577
Strict Standards
: Non-static method JFactory::getApplication() should not be called statically in
/home/formguid/public_html/administrator/components/com_sh404sef/sh404sef.class.php
on line
1283
Strict Standards
: Non-static method JLoader::import() should not be called statically in
/home/formguid/public_html/libraries/loader.php
on line
186
Strict Standards
: Non-static method JFactory::getDBO() should not be called statically in
/home/formguid/public_html/administrator/components/com_sh404sef/sh404sef.class.php
on line
1335
Strict Standards
: Non-static method shRouter::shGetConfig() should not be called statically in
/home/formguid/public_html/administrator/components/com_sh404sef/sh404sef.class.php
on line
1241
Strict Standards
: Non-static method JString::substr() should not be called statically in
/home/formguid/public_html/administrator/components/com_sh404sef/sh404sef.class.php
on line
1358
Strict Standards
: Non-static method JString::ltrim() should not be called statically in
/home/formguid/public_html/administrator/components/com_sh404sef/sh404sef.class.php
on line
1392
Strict Standards
: Non-static method JLoader::import() should not be called statically in
/home/formguid/public_html/libraries/loader.php
on line
186
Strict Standards
: Non-static method JString::substr() should not be called statically in
/home/formguid/public_html/administrator/components/com_sh404sef/sh404sef.class.php
on line
1397
Strict Standards
: Non-static method JString::substr() should not be called statically in
/home/formguid/public_html/administrator/components/com_sh404sef/sh404sef.class.php
on line
1442
Strict Standards
: Non-static method JString::substr() should not be called statically in
/home/formguid/public_html/administrator/components/com_sh404sef/sh404sef.class.php
on line
1453
Strict Standards
: Non-static method shRouter::shGetConfig() should not be called statically in
/home/formguid/public_html/administrator/components/com_sh404sef/sh404seffactory.php
on line
69
Strict Standards
: Non-static method JLoader::register() should not be called statically in
/home/formguid/public_html/administrator/components/com_sh404sef/helpers/autoloader.php
on line
95
Strict Standards
: Non-static method JLoader::load() should not be called statically in
/home/formguid/public_html/administrator/components/com_sh404sef/helpers/autoloader.php
on line
106
Strict Standards
: Non-static method JLoader::register() should not be called statically in
/home/formguid/public_html/libraries/loader.php
on line
138
Strict Standards
: Non-static method JLoader::load() should not be called statically in
/home/formguid/public_html/libraries/loader.php
on line
161
Strict Standards
: Non-static method JLoader::register() should not be called statically in
/home/formguid/public_html/libraries/loader.php
on line
138
Strict Standards
: Non-static method shRouter::shGetConfig() should not be called statically in
/home/formguid/public_html/administrator/components/com_sh404sef/sh404sef.class.php
on line
1241
Strict Standards
: Non-static method JString::rtrim() should not be called statically in
/home/formguid/public_html/administrator/components/com_sh404sef/sh404sef.class.php
on line
2146
Strict Standards
: Non-static method JLoader::import() should not be called statically in
/home/formguid/public_html/libraries/loader.php
on line
186
Strict Standards
: Non-static method shRouter::shGetConfig() should not be called statically in
/home/formguid/public_html/administrator/components/com_sh404sef/sh404sef.class.php
on line
903
Strict Standards
: Non-static method JFactory::getDBO() should not be called statically in
/home/formguid/public_html/administrator/components/com_sh404sef/sh404sef.class.php
on line
889
Strict Standards
: Non-static method JString::ltrim() should not be called statically in
/home/formguid/public_html/administrator/components/com_sh404sef/sh404sef.class.php
on line
1782
Strict Standards
: Non-static method JLoader::import() should not be called statically in
/home/formguid/public_html/libraries/loader.php
on line
186
Strict Standards
: Non-static method shRouter::shGetConfig() should not be called statically in
/home/formguid/public_html/administrator/components/com_sh404sef/sh404sef.class.php
on line
1241
Strict Standards
: Non-static method shRouter::shGetConfig() should not be called statically in
/home/formguid/public_html/administrator/components/com_sh404sef/sh404sef.class.php
on line
336
Strict Standards
: Non-static method shRouter::shGetConfig() should not be called statically in
/home/formguid/public_html/administrator/components/com_sh404sef/sh404sef.class.php
on line
1241
Strict Standards
: Non-static method shRouter::shGetConfig() should not be called statically in
/home/formguid/public_html/administrator/components/com_sh404sef/sh404sef.class.php
on line
1241
Strict Standards
: Non-static method shRouter::shGetConfig() should not be called statically in
/home/formguid/public_html/administrator/components/com_sh404sef/sh404sef.class.php
on line
1241
Strict Standards
: Non-static method JLoader::import() should not be called statically in
/home/formguid/public_html/libraries/loader.php
on line
186
Strict Standards
: Non-static method JLoader::import() should not be called statically in
/home/formguid/public_html/libraries/loader.php
on line
186
Strict Standards
: Non-static method JLoader::import() should not be called statically in
/home/formguid/public_html/libraries/loader.php
on line
186
Strict Standards
: Non-static method JLoader::import() should not be called statically in
/home/formguid/public_html/libraries/loader.php
on line
186
Strict Standards
: Non-static method JLoader::import() should not be called statically in
/home/formguid/public_html/libraries/loader.php
on line
186
Strict Standards
: Non-static method JLoader::import() should not be called statically in
/home/formguid/public_html/libraries/loader.php
on line
186
Strict Standards
: Non-static method JLoader::import() should not be called statically in
/home/formguid/public_html/libraries/loader.php
on line
186
Strict Standards
: Non-static method JLoader::import() should not be called statically in
/home/formguid/public_html/libraries/loader.php
on line
186
Strict Standards
: Non-static method JLoader::import() should not be called statically in
/home/formguid/public_html/libraries/loader.php
on line
186
Strict Standards
: Non-static method JLoader::import() should not be called statically in
/home/formguid/public_html/libraries/loader.php
on line
186
Strict Standards
: Non-static method JLoader::import() should not be called statically in
/home/formguid/public_html/libraries/loader.php
on line
186
Strict Standards
: Non-static method JLoader::import() should not be called statically in
/home/formguid/public_html/libraries/loader.php
on line
186
Strict Standards
: Non-static method JLoader::import() should not be called statically in
/home/formguid/public_html/libraries/loader.php
on line
186
Strict Standards
: Non-static method JLoader::import() should not be called statically in
/home/formguid/public_html/libraries/loader.php
on line
186
Strict Standards
: Non-static method JLoader::import() should not be called statically in
/home/formguid/public_html/libraries/loader.php
on line
186
Strict Standards
: Non-static method JLoader::import() should not be called statically in
/home/formguid/public_html/libraries/loader.php
on line
186
Strict Standards
: Non-static method JLoader::import() should not be called statically in
/home/formguid/public_html/libraries/loader.php
on line
186
Strict Standards
: Non-static method JLoader::import() should not be called statically in
/home/formguid/public_html/libraries/loader.php
on line
186
Strict Standards
: Non-static method JLoader::load() should not be called statically in
/home/formguid/public_html/libraries/loader.php
on line
161
Strict Standards
: Non-static method JLoader::register() should not be called statically in
/home/formguid/public_html/libraries/loader.php
on line
138
Strict Standards
: Non-static method JLoader::import() should not be called statically in
/home/formguid/public_html/libraries/loader.php
on line
186
Strict Standards
: Non-static method JLoader::load() should not be called statically in
/home/formguid/public_html/libraries/loader.php
on line
161
Strict Standards
: Non-static method JLoader::register() should not be called statically in
/home/formguid/public_html/libraries/loader.php
on line
138
Strict Standards
: Non-static method JLoader::import() should not be called statically in
/home/formguid/public_html/libraries/loader.php
on line
186
Strict Standards
: Non-static method JLoader::load() should not be called statically in
/home/formguid/public_html/libraries/loader.php
on line
161
Strict Standards
: Non-static method JLoader::register() should not be called statically in
/home/formguid/public_html/libraries/loader.php
on line
138
Strict Standards
: Non-static method JLoader::import() should not be called statically in
/home/formguid/public_html/libraries/loader.php
on line
186
Strict Standards
: Non-static method JLoader::load() should not be called statically in
/home/formguid/public_html/libraries/loader.php
on line
161
Strict Standards
: Non-static method JLoader::register() should not be called statically in
/home/formguid/public_html/libraries/loader.php
on line
138
Strict Standards
: Non-static method JLoader::import() should not be called statically in
/home/formguid/public_html/libraries/loader.php
on line
186
Strict Standards
: Non-static method JLoader::import() should not be called statically in
/home/formguid/public_html/libraries/loader.php
on line
186
Strict Standards
: Non-static method JFactory::getApplication() should not be called statically in
/home/formguid/public_html/plugins/sh404sefcore/sh404sefsimilarurls.php
on line
25
Strict Standards
: Non-static method shRouter::shPageInfo() should not be called statically in
/home/formguid/public_html/plugins/sh404sefcore/sh404sefsimilarurls.php
on line
35
Strict Standards
: Non-static method JString::strpos() should not be called statically in
/home/formguid/public_html/plugins/sh404sefcore/sh404sefsimilarurls.php
on line
44
Gippsland Racing: Mourinho Might Be Special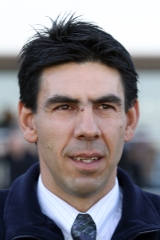 Moe trainers took the spotlight again this week with Len Xuereb and Peter Gelagotis preparing winners at Pakenham and Geelong respectively. In the case of Gelagotis, he appears to have another promising youngster on his hands.
Mourinho was having just his second race start when disposing of a handy field at Geelong.
"At his first run at Sale he drew wide, so we just settled him back and let him find the line. We all thought it would take a few more to educate him better, but the penny seemed to drop quickly and he did a good job at Geelong," said Gelagotis.
"He is clearly a stayer in the making and we will continue to just step him up in distance. Preferably I'd like to keep him to his age group, so that may mean a city race, but we'll see what pans out.
"I believe he has good ability, so we will just take him along slowly," he said.
STORMY OMEN
Gippsland had some spectacular thunderstorms on Thursday night and it proved an omen when Len Xuereb prepared Storm Bay to win at Pakenham Friday.
"I am not sure he really handled the wet track, he plodded away a bit, but was able to get there," said Len.
"The longer distances are certainly his go and I'll continue to push him out over ground. His next outing is likely to be a 1900m race on Latrobe Valley Cup day this Sunday," he said.
LATROBE CUP SUNDAY
It's the Latrobe Valley's biggest Christmas party and this Sunday's LV Cup should live up to that reputation with a massive crowd anticipated.
Among the early nominations is last start Moe winner, Haka Brave, trained by Cliff Murray at Sale.
Two big screens with on course hosts Jo Crawford-Wynd and Rob Gaylard along with the infield carnival entertainment again, make it a great day for all the family.
UPS AND DOWNS
Racing has its highs and lows and unfortunately Rockpecker and his Stony Creek by Ken Fythe, had an unfortunate long trip to Canberra last week for the Cup.
"Rocky" veered out shortly after the start and dislodged he rider, Michael Rodd. Fortunately the former Gippsland Horse of the Year did not sustain serious injury.
After his back to back wins, the promising Belgietto was kept ticking over with a trial win at Moe last week.
Two of the more impressive trial winners at Moe were Amaudru and Sweet Cheeks – watch for them to appear.
Picture: Colin Bull
Users of the old Virtual FormGuide site for zip file form and ratings should login here. NOW INCLUDES ACCESS TO NZ, HK AND AUSTRALIAN NON-TAB FORM
Every Race, Every Day Read More
Only $63 A Month
Every Race, Every Day Read More
Only $63 A Month
Every Race, Every Day Read More
TVF Form In Zip Format
Historical Data From '98
Build Your Own Form Database
Only $35 A Month!
NOW INCLUDES NZ, HK AND AUSTRALIAN NON-TAB FORM