Strict Standards
: Non-static method JLoader::import() should not be called statically in
/home/formguid/public_html/libraries/loader.php
on line
186
Strict Standards
: Non-static method JLoader::register() should not be called statically in
/home/formguid/public_html/libraries/loader.php
on line
71
Strict Standards
: Non-static method JLoader::load() should not be called statically in
/home/formguid/public_html/libraries/loader.php
on line
161
Strict Standards
: Non-static method JLoader::register() should not be called statically in
/home/formguid/public_html/libraries/loader.php
on line
138
Strict Standards
: Declaration of ContentController::display() should be compatible with JController::display($cachable = false) in
/home/formguid/public_html/components/com_content/controller.php
on line
28
Strict Standards
: Non-static method JLoader::import() should not be called statically in
/home/formguid/public_html/libraries/loader.php
on line
186
Strict Standards
: Non-static method JLoader::import() should not be called statically in
/home/formguid/public_html/libraries/loader.php
on line
186
Strict Standards
: Non-static method JLoader::import() should not be called statically in
/home/formguid/public_html/libraries/loader.php
on line
186
Strict Standards
: Non-static method JLoader::load() should not be called statically in
/home/formguid/public_html/libraries/loader.php
on line
161
Strict Standards
: Non-static method JLoader::register() should not be called statically in
/home/formguid/public_html/libraries/loader.php
on line
138
Strict Standards
: Non-static method JLoader::load() should not be called statically in
/home/formguid/public_html/libraries/loader.php
on line
161
Strict Standards
: Non-static method JLoader::register() should not be called statically in
/home/formguid/public_html/libraries/loader.php
on line
138
Strict Standards
: Non-static method JLoader::import() should not be called statically in
/home/formguid/public_html/libraries/loader.php
on line
186
Strict Standards
: call_user_func_array() expects parameter 1 to be a valid callback, non-static method JHTMLBehavior::caption() should not be called statically in
/home/formguid/public_html/libraries/joomla/html/html.php
on line
91
Strict Standards
: Non-static method JHTML::script() should not be called statically in
/home/formguid/public_html/libraries/joomla/html/html/behavior.php
on line
63
Strict Standards
: Non-static method JHTML::_() should not be called statically in
/home/formguid/public_html/libraries/joomla/html/html.php
on line
172
Strict Standards
: call_user_func_array() expects parameter 1 to be a valid callback, non-static method JHTMLBehavior::mootools() should not be called statically in
/home/formguid/public_html/libraries/joomla/html/html.php
on line
91
Strict Standards
: Non-static method JFactory::getConfig() should not be called statically in
/home/formguid/public_html/libraries/joomla/html/html/behavior.php
on line
46
Strict Standards
: Non-static method JHTML::script() should not be called statically in
/home/formguid/public_html/libraries/joomla/html/html/behavior.php
on line
56
Strict Standards
: Non-static method JURI::root() should not be called statically in
/home/formguid/public_html/libraries/joomla/html/html.php
on line
176
Strict Standards
: Non-static method JURI::base() should not be called statically in
/home/formguid/public_html/libraries/joomla/environment/uri.php
on line
276
Strict Standards
: Non-static method JURI::getInstance() should not be called statically in
/home/formguid/public_html/libraries/joomla/environment/uri.php
on line
276
Strict Standards
: Non-static method JFactory::getDocument() should not be called statically in
/home/formguid/public_html/libraries/joomla/html/html.php
on line
179
Strict Standards
: Non-static method JURI::root() should not be called statically in
/home/formguid/public_html/libraries/joomla/html/html.php
on line
176
Strict Standards
: Non-static method JFactory::getDocument() should not be called statically in
/home/formguid/public_html/libraries/joomla/html/html.php
on line
179
Strict Standards
: Non-static method JLoader::import() should not be called statically in
/home/formguid/public_html/libraries/loader.php
on line
186
Strict Standards
: Non-static method JLoader::load() should not be called statically in
/home/formguid/public_html/libraries/loader.php
on line
161
Strict Standards
: Non-static method JLoader::register() should not be called statically in
/home/formguid/public_html/libraries/loader.php
on line
138
Strict Standards
: Non-static method JLoader::import() should not be called statically in
/home/formguid/public_html/libraries/loader.php
on line
186
Strict Standards
: Non-static method JLoader::import() should not be called statically in
/home/formguid/public_html/libraries/loader.php
on line
186
Strict Standards
: Non-static method JLoader::register() should not be called statically in
/home/formguid/public_html/libraries/loader.php
on line
71
Strict Standards
: Non-static method JLoader::load() should not be called statically in
/home/formguid/public_html/libraries/loader.php
on line
161
Strict Standards
: Non-static method JLoader::register() should not be called statically in
/home/formguid/public_html/libraries/loader.php
on line
138
Strict Standards
: Non-static method JLoader::load() should not be called statically in
/home/formguid/public_html/libraries/loader.php
on line
161
Strict Standards
: Non-static method JLoader::register() should not be called statically in
/home/formguid/public_html/libraries/loader.php
on line
138
Strict Standards
: Non-static method JLoader::import() should not be called statically in
/home/formguid/public_html/libraries/loader.php
on line
186
Strict Standards
: Non-static method JLoader::import() should not be called statically in
/home/formguid/public_html/libraries/loader.php
on line
186
Strict Standards
: Non-static method JLoader::import() should not be called statically in
/home/formguid/public_html/libraries/loader.php
on line
186
Strict Standards
: Non-static method JLoader::import() should not be called statically in
/home/formguid/public_html/libraries/loader.php
on line
186
Strict Standards
: Non-static method JLoader::import() should not be called statically in
/home/formguid/public_html/libraries/loader.php
on line
186
Strict Standards
: Non-static method JLoader::load() should not be called statically in
/home/formguid/public_html/libraries/loader.php
on line
161
Strict Standards
: Non-static method JLoader::register() should not be called statically in
/home/formguid/public_html/libraries/loader.php
on line
138
Strict Standards
: Declaration of JCacheView::get() should be compatible with JCache::get($id, $group = NULL) in
/home/formguid/public_html/libraries/joomla/cache/handler/view.php
on line
150
Strict Standards
: Non-static method JLoader::import() should not be called statically in
/home/formguid/public_html/libraries/loader.php
on line
186
Strict Standards
: Non-static method JLoader::import() should not be called statically in
/home/formguid/public_html/libraries/loader.php
on line
186
Strict Standards
: Non-static method JLoader::import() should not be called statically in
/home/formguid/public_html/libraries/loader.php
on line
186
Strict Standards
: Non-static method JLoader::register() should not be called statically in
/home/formguid/public_html/libraries/loader.php
on line
71
Strict Standards
: Non-static method JLoader::load() should not be called statically in
/home/formguid/public_html/libraries/loader.php
on line
161
Strict Standards
: Non-static method JLoader::register() should not be called statically in
/home/formguid/public_html/libraries/loader.php
on line
138
Strict Standards
: Non-static method JLoader::import() should not be called statically in
/home/formguid/public_html/libraries/loader.php
on line
186
Strict Standards
: Non-static method JLoader::import() should not be called statically in
/home/formguid/public_html/libraries/loader.php
on line
186
Strict Standards
: Non-static method JLoader::import() should not be called statically in
/home/formguid/public_html/libraries/loader.php
on line
186
Strict Standards
: Non-static method JLoader::import() should not be called statically in
/home/formguid/public_html/libraries/loader.php
on line
186
Strict Standards
: Non-static method JLoader::import() should not be called statically in
/home/formguid/public_html/libraries/loader.php
on line
186
Strict Standards
: Non-static method JLoader::register() should not be called statically in
/home/formguid/public_html/libraries/loader.php
on line
71
Strict Standards
: Non-static method JLoader::load() should not be called statically in
/home/formguid/public_html/libraries/loader.php
on line
161
Strict Standards
: Non-static method JLoader::register() should not be called statically in
/home/formguid/public_html/libraries/loader.php
on line
138
Strict Standards
: Non-static method JLoader::import() should not be called statically in
/home/formguid/public_html/libraries/loader.php
on line
186
Strict Standards
: Non-static method JLoader::import() should not be called statically in
/home/formguid/public_html/libraries/loader.php
on line
186
Strict Standards
: Non-static method JLoader::import() should not be called statically in
/home/formguid/public_html/libraries/loader.php
on line
186
Strict Standards
: Non-static method JLoader::load() should not be called statically in
/home/formguid/public_html/libraries/loader.php
on line
161
Strict Standards
: Non-static method JLoader::register() should not be called statically in
/home/formguid/public_html/libraries/loader.php
on line
138
Strict Standards
: Non-static method JLoader::import() should not be called statically in
/home/formguid/public_html/libraries/loader.php
on line
186
Strict Standards
: Non-static method JLoader::import() should not be called statically in
/home/formguid/public_html/libraries/loader.php
on line
186
Strict Standards
: Non-static method JLoader::import() should not be called statically in
/home/formguid/public_html/libraries/loader.php
on line
186
Strict Standards
: Non-static method shRouter::shGetConfig() should not be called statically in
/home/formguid/public_html/administrator/components/com_sh404sef/sh404sef.class.php
on line
1241
Strict Standards
: Non-static method JString::substr() should not be called statically in
/home/formguid/public_html/administrator/components/com_sh404sef/sh404sef.class.php
on line
1321
Strict Standards
: Non-static method shRouter::shGetConfig() should not be called statically in
/home/formguid/public_html/administrator/components/com_sh404sef/sh404sef.class.php
on line
1325
Strict Standards
: Non-static method shRouter::shPageInfo() should not be called statically in
/home/formguid/public_html/administrator/components/com_sh404sef/sh404sef.class.php
on line
1326
Strict Standards
: Non-static method JRequest::getInt() should not be called statically in
/home/formguid/public_html/administrator/components/com_sh404sef/sh404sef.class.php
on line
1328
Strict Standards
: Non-static method JRequest::getVar() should not be called statically in
/home/formguid/public_html/libraries/joomla/environment/request.php
on line
179
Strict Standards
: Non-static method JRequest::_cleanVar() should not be called statically in
/home/formguid/public_html/libraries/joomla/environment/request.php
on line
134
Strict Standards
: Non-static method JFilterInput::getInstance() should not be called statically in
/home/formguid/public_html/libraries/joomla/environment/request.php
on line
577
Strict Standards
: Non-static method JFactory::getApplication() should not be called statically in
/home/formguid/public_html/administrator/components/com_sh404sef/sh404sef.class.php
on line
1283
Strict Standards
: Non-static method JLoader::import() should not be called statically in
/home/formguid/public_html/libraries/loader.php
on line
186
Strict Standards
: Non-static method JFactory::getDBO() should not be called statically in
/home/formguid/public_html/administrator/components/com_sh404sef/sh404sef.class.php
on line
1335
Strict Standards
: Non-static method shRouter::shGetConfig() should not be called statically in
/home/formguid/public_html/administrator/components/com_sh404sef/sh404sef.class.php
on line
1241
Strict Standards
: Non-static method JString::substr() should not be called statically in
/home/formguid/public_html/administrator/components/com_sh404sef/sh404sef.class.php
on line
1358
Strict Standards
: Non-static method JString::ltrim() should not be called statically in
/home/formguid/public_html/administrator/components/com_sh404sef/sh404sef.class.php
on line
1392
Strict Standards
: Non-static method JLoader::import() should not be called statically in
/home/formguid/public_html/libraries/loader.php
on line
186
Strict Standards
: Non-static method JString::substr() should not be called statically in
/home/formguid/public_html/administrator/components/com_sh404sef/sh404sef.class.php
on line
1397
Strict Standards
: Non-static method JString::substr() should not be called statically in
/home/formguid/public_html/administrator/components/com_sh404sef/sh404sef.class.php
on line
1442
Strict Standards
: Non-static method JString::substr() should not be called statically in
/home/formguid/public_html/administrator/components/com_sh404sef/sh404sef.class.php
on line
1453
Strict Standards
: Non-static method shRouter::shGetConfig() should not be called statically in
/home/formguid/public_html/administrator/components/com_sh404sef/sh404seffactory.php
on line
69
Strict Standards
: Non-static method JLoader::register() should not be called statically in
/home/formguid/public_html/administrator/components/com_sh404sef/helpers/autoloader.php
on line
95
Strict Standards
: Non-static method JLoader::load() should not be called statically in
/home/formguid/public_html/administrator/components/com_sh404sef/helpers/autoloader.php
on line
106
Strict Standards
: Non-static method JLoader::register() should not be called statically in
/home/formguid/public_html/libraries/loader.php
on line
138
Strict Standards
: Non-static method JLoader::load() should not be called statically in
/home/formguid/public_html/libraries/loader.php
on line
161
Strict Standards
: Non-static method JLoader::register() should not be called statically in
/home/formguid/public_html/libraries/loader.php
on line
138
Strict Standards
: Non-static method shRouter::shGetConfig() should not be called statically in
/home/formguid/public_html/administrator/components/com_sh404sef/sh404sef.class.php
on line
1241
Strict Standards
: Non-static method JString::rtrim() should not be called statically in
/home/formguid/public_html/administrator/components/com_sh404sef/sh404sef.class.php
on line
2146
Strict Standards
: Non-static method JLoader::import() should not be called statically in
/home/formguid/public_html/libraries/loader.php
on line
186
Strict Standards
: Non-static method shRouter::shGetConfig() should not be called statically in
/home/formguid/public_html/administrator/components/com_sh404sef/sh404sef.class.php
on line
903
Strict Standards
: Non-static method JFactory::getDBO() should not be called statically in
/home/formguid/public_html/administrator/components/com_sh404sef/sh404sef.class.php
on line
889
Strict Standards
: Non-static method JString::ltrim() should not be called statically in
/home/formguid/public_html/administrator/components/com_sh404sef/sh404sef.class.php
on line
1782
Strict Standards
: Non-static method JLoader::import() should not be called statically in
/home/formguid/public_html/libraries/loader.php
on line
186
Strict Standards
: Non-static method shRouter::shGetConfig() should not be called statically in
/home/formguid/public_html/administrator/components/com_sh404sef/sh404sef.class.php
on line
1241
Strict Standards
: Non-static method shRouter::shGetConfig() should not be called statically in
/home/formguid/public_html/administrator/components/com_sh404sef/sh404sef.class.php
on line
336
Strict Standards
: Non-static method shRouter::shGetConfig() should not be called statically in
/home/formguid/public_html/administrator/components/com_sh404sef/sh404sef.class.php
on line
1241
Strict Standards
: Non-static method shRouter::shGetConfig() should not be called statically in
/home/formguid/public_html/administrator/components/com_sh404sef/sh404sef.class.php
on line
1241
Strict Standards
: Non-static method shRouter::shGetConfig() should not be called statically in
/home/formguid/public_html/administrator/components/com_sh404sef/sh404sef.class.php
on line
1241
Strict Standards
: Non-static method JLoader::import() should not be called statically in
/home/formguid/public_html/libraries/loader.php
on line
186
Strict Standards
: Non-static method JLoader::import() should not be called statically in
/home/formguid/public_html/libraries/loader.php
on line
186
Strict Standards
: Non-static method JLoader::import() should not be called statically in
/home/formguid/public_html/libraries/loader.php
on line
186
Strict Standards
: Non-static method JLoader::import() should not be called statically in
/home/formguid/public_html/libraries/loader.php
on line
186
Strict Standards
: Non-static method JLoader::import() should not be called statically in
/home/formguid/public_html/libraries/loader.php
on line
186
Strict Standards
: Non-static method JLoader::import() should not be called statically in
/home/formguid/public_html/libraries/loader.php
on line
186
Strict Standards
: Non-static method JLoader::import() should not be called statically in
/home/formguid/public_html/libraries/loader.php
on line
186
Strict Standards
: Non-static method JLoader::import() should not be called statically in
/home/formguid/public_html/libraries/loader.php
on line
186
Strict Standards
: Non-static method JLoader::import() should not be called statically in
/home/formguid/public_html/libraries/loader.php
on line
186
Strict Standards
: Non-static method JLoader::import() should not be called statically in
/home/formguid/public_html/libraries/loader.php
on line
186
Strict Standards
: Non-static method JLoader::import() should not be called statically in
/home/formguid/public_html/libraries/loader.php
on line
186
Strict Standards
: Non-static method JLoader::import() should not be called statically in
/home/formguid/public_html/libraries/loader.php
on line
186
Strict Standards
: Non-static method JLoader::import() should not be called statically in
/home/formguid/public_html/libraries/loader.php
on line
186
Strict Standards
: Non-static method JLoader::import() should not be called statically in
/home/formguid/public_html/libraries/loader.php
on line
186
Strict Standards
: Non-static method JLoader::import() should not be called statically in
/home/formguid/public_html/libraries/loader.php
on line
186
Strict Standards
: Non-static method JLoader::import() should not be called statically in
/home/formguid/public_html/libraries/loader.php
on line
186
Strict Standards
: Non-static method JLoader::import() should not be called statically in
/home/formguid/public_html/libraries/loader.php
on line
186
Strict Standards
: Non-static method JLoader::import() should not be called statically in
/home/formguid/public_html/libraries/loader.php
on line
186
Strict Standards
: Non-static method JLoader::load() should not be called statically in
/home/formguid/public_html/libraries/loader.php
on line
161
Strict Standards
: Non-static method JLoader::register() should not be called statically in
/home/formguid/public_html/libraries/loader.php
on line
138
Strict Standards
: Non-static method JLoader::import() should not be called statically in
/home/formguid/public_html/libraries/loader.php
on line
186
Strict Standards
: Non-static method JLoader::load() should not be called statically in
/home/formguid/public_html/libraries/loader.php
on line
161
Strict Standards
: Non-static method JLoader::register() should not be called statically in
/home/formguid/public_html/libraries/loader.php
on line
138
Strict Standards
: Non-static method JLoader::import() should not be called statically in
/home/formguid/public_html/libraries/loader.php
on line
186
Strict Standards
: Non-static method JLoader::load() should not be called statically in
/home/formguid/public_html/libraries/loader.php
on line
161
Strict Standards
: Non-static method JLoader::register() should not be called statically in
/home/formguid/public_html/libraries/loader.php
on line
138
Strict Standards
: Non-static method JLoader::import() should not be called statically in
/home/formguid/public_html/libraries/loader.php
on line
186
Strict Standards
: Non-static method JLoader::load() should not be called statically in
/home/formguid/public_html/libraries/loader.php
on line
161
Strict Standards
: Non-static method JLoader::register() should not be called statically in
/home/formguid/public_html/libraries/loader.php
on line
138
Strict Standards
: Non-static method JLoader::import() should not be called statically in
/home/formguid/public_html/libraries/loader.php
on line
186
Strict Standards
: Non-static method JLoader::import() should not be called statically in
/home/formguid/public_html/libraries/loader.php
on line
186
Strict Standards
: Non-static method JFactory::getApplication() should not be called statically in
/home/formguid/public_html/plugins/sh404sefcore/sh404sefsimilarurls.php
on line
25
Strict Standards
: Non-static method shRouter::shPageInfo() should not be called statically in
/home/formguid/public_html/plugins/sh404sefcore/sh404sefsimilarurls.php
on line
35
Strict Standards
: Non-static method JString::strpos() should not be called statically in
/home/formguid/public_html/plugins/sh404sefcore/sh404sefsimilarurls.php
on line
44
RAD Board Dismisses Nikolic Charges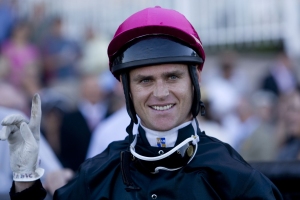 Embattled jockey Danny Nikolic can afford to breathe a sigh of relief after the Racing Appeals and Disciplinary (RAD) Board cleared him of all four charges he contested.
Nikolic pleaded not guilty to two charges for improper practices in connection with racing and another two charges for conduct prejudicial to the interest of racing.
Chaired by Judge Russell Lewis, The RAD Board did "not find the charges proved" and therefore dismissed the charges.
Last week, Nikolic pleaded guilty to five charges of engaging in improper behaviour towards stewards at Moonee Valley on February 13 and for leaving the jockeys' room between riding commitments without permission of stewards, making contact with various associates via his mobile phone.
This morning the RAD Board fined Nikolic $2,000 on the charge of improper behaviour towards stewards while Nikolic was fined $250 for each occasion he made contact with various associates mid-meeting at Seymour on October 18, Kyneton on October 20, Geelong on October 21 and Flemington on January 1.
Aside from these fines, Nikolic was fined $5,000 by the RAD Board earlier this year for not handing his mobile phone to stewards when requested to do so.
To view the reasons given by the RAD Board as to how they reached their verdict, click here.

Picture: Sportpix

Users of the old Virtual FormGuide site for zip file form and ratings should login here. NOW INCLUDES ACCESS TO NZ, HK AND AUSTRALIAN NON-TAB FORM
Every Race, Every Day Read More
Only $63 A Month
Every Race, Every Day Read More
Only $63 A Month
Every Race, Every Day Read More
TVF Form In Zip Format
Historical Data From '98
Build Your Own Form Database
Only $35 A Month!
NOW INCLUDES NZ, HK AND AUSTRALIAN NON-TAB FORM